How to Design a Website For Black Friday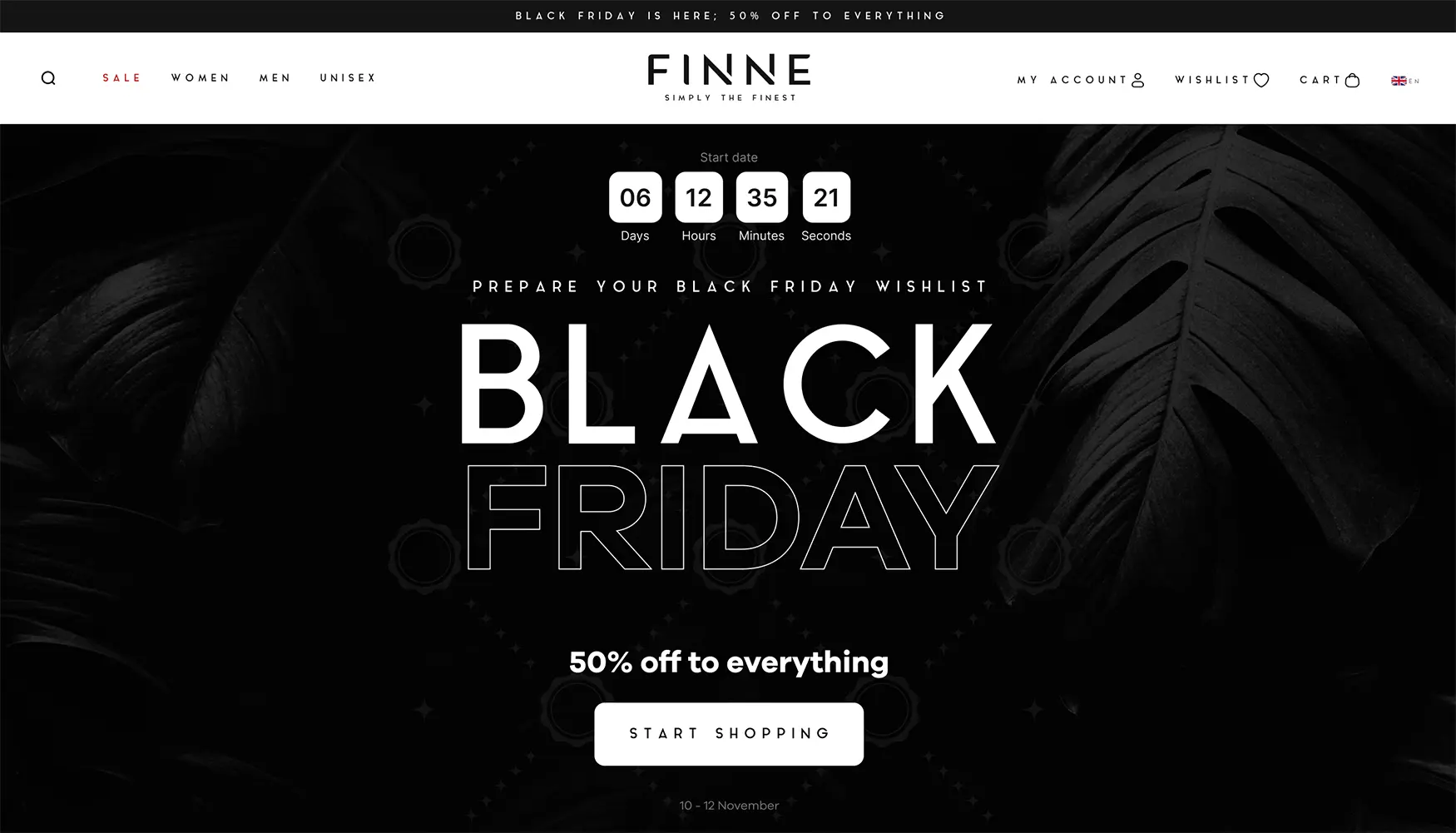 Black Friday is an incredible opportunity for ecommerce businesses to generate substantial revenue. With one in three people planning to shop during this season, it's crucial for marketers to seize this chance and attract potential customers to their online stores.
To make the most of this promotional period, a well-researched and strategically planned marketing campaign is essential, and that includes preparing your website for Black Friday. In this article, we will explore the benefits of a Black Friday campaign, discuss the importance of web design, and provide valuable insights and examples to help you create an exceptional ecommerce website for this significant retail event.
The Benefits of a Black Friday Campaign
Before diving into the design aspects, let's first understand the benefits of running a Black Friday campaign. The statistics speak for themselves – in 2022 alone, online sales during Thanksgiving, Black Friday, and Cyber Monday reached a staggering $9.12 billion in revenue. These numbers are only expected to grow in the coming years. Here are some undeniable advantages that come with a well-executed Black Friday campaign:
Acquiring New Customers: Black Friday attracts a vast number of shoppers who may have previously overlooked your brand. By offering enticing deals, you have the opportunity to win over new customers and potentially gain their loyalty for future purchases.
Engaging Dormant Customers: Black Friday deals serve as a reminder to customers who made one-time purchases and never returned. It's a chance to reignite their interest and bring them back to your website.
Increasing Sales Volume: The sheer volume of sales during Black Friday can help you reach weekly or even monthly targets in just a single day. It's an opportunity to significantly boost your revenue and profit margins.
However, it's crucial to note that without a well-designed website and strategically planned activities, your Black Friday campaign risks failure. In the following sections, we will focus on creating an ecommerce website design that will captivate your customers and ensure a successful Black Friday shopping experience.
The Foundation of a Successful Black Friday Website Design
The key to a successful marketing campaign lies in a well-thought-out concept that encompasses what, how, and why you want to sell. Before delving into the design elements, it's essential to identify your target audience, communication channels, and the visual language that aligns with your creative concept. This will enable you to implement a web design for Black Friday that encompasses the right styles, forms, typography, and colors, all by keeping your brand design in place.
Let's explore the various aspects of your marketing campaign that can be embraced by your Black Friday website design.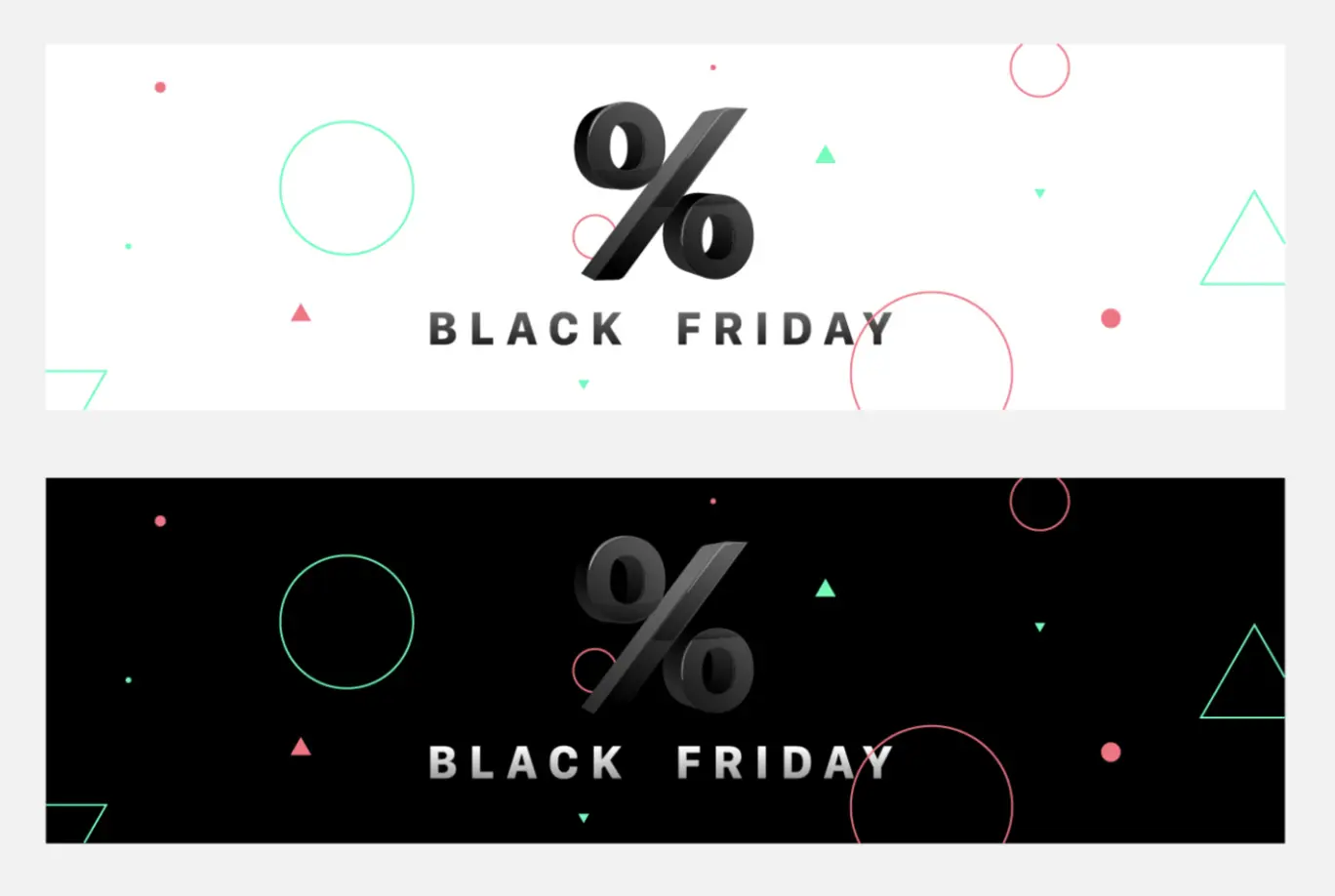 Advertising Banners
One of the simplest yet effective ways to get into the Black Friday spirit is by incorporating advertising banners on your website or external platforms. These banners should highlight the size of discounts, showcase your most lucrative offers, and promote bundle deals. This approach is particularly beneficial for brick-and-mortar stores that aim to draw attention from the online community and entice them to visit their physical locations.
Landing Page
For a more substantial approach to Black Friday website design, consider creating a dedicated landing page on your website. This page serves as the entry point for customers coming from social media, email campaigns, or advertising banners. A well-designed landing page is suitable for various types of businesses, including ecommerce websites, travel agencies, and marketing and software providers. It allows you to showcase your discounted products or services and welcome a wave of new clients.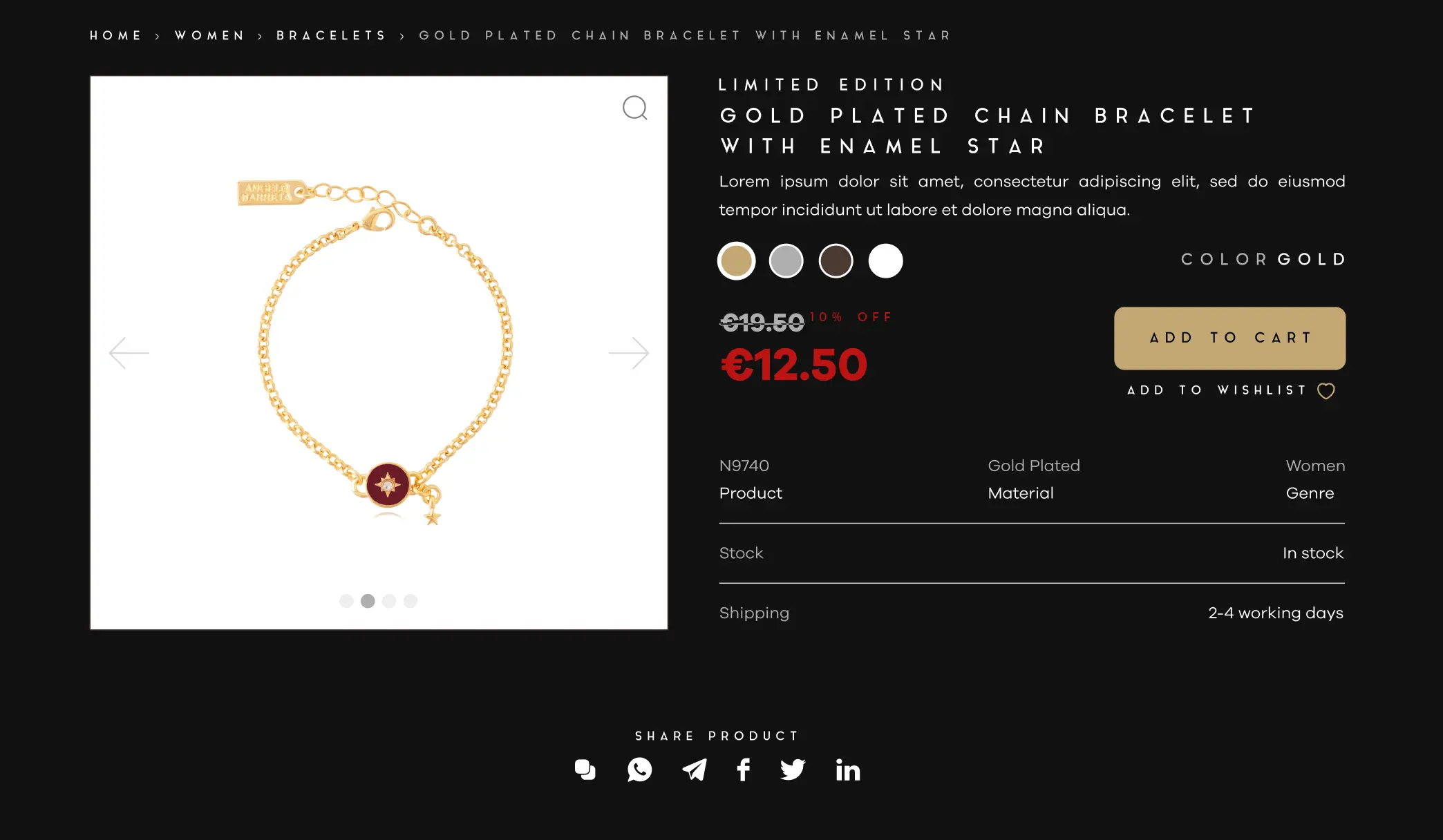 Website Skin
If your business heavily relies on Black Friday and Cyber Monday revenues, investing in a new website skin can be a game-changer. A website skin showcases your commitment to these holiday activities and demonstrates your desire to surprise and retain customers. This custom graphical appearance can be applied across multiple pages, including the header, footer, sidebars, and other graphical elements. The website skin should feature discounts throughout your product or service range, including "deal of the hour" offers, bundle deals, and more.
360-Degree Campaign
To maximize customer engagement, it's crucial to attack from all communication channels. A 360-degree marketing strategy encompasses various areas, including social media channels, newsletter mailings, banner campaigns, offline marketing, and POS software design. Each of these channels should lead customers to your landing page or homepage, where they can find comprehensive information about your holiday sales and enticing offers. To execute a successful 360-degree campaign, you'll need to create custom social media banners, design captivating email templates, update your website and mobile application, and claim your listing on Black Friday and Cyber Monday platforms.
Why Custom Design Matters
When designing a website for Black Friday, it's essential to resist the temptation of using standard templates for the sake of speed and convenience. Custom design offers numerous advantages that can significantly enhance your Black Friday campaign. Here's why opting for a custom design is the way to go:
Tailored to Your Target Audience: Holiday shoppers come from diverse backgrounds, and their preferences may vary based on factors such as age, gender, and social status. By creating a custom design, you can ensure that your website elements resonate with your target audience on a deeper level.
Considers Business Specifics: A small business website requires a different approach compared to the website of a large corporation. Likewise, Black Friday on Amazon differs from the one on Alibaba. Custom design allows you to tailor your website to the unique needs and characteristics of your business.
Builds Trust: In a sea of similar banners and designs on the internet, a custom design stands out and demonstrates your commitment to providing a unique and individual experience for your customers. Investing in a tailored design helps build trust and credibility, setting you apart from the competition.
Maintains Consistency: A tailor-made design allows you to maintain a consistent style across all communication channels. Instead of using disparate templates from various sources, it's advisable to turn to professional website designers who can ensure a cohesive and unified brand experience.
Interested to explore a custom web design for your Black Friday campaign? Let's discuss.
Tips for Black Friday Web Design
Now that we understand the importance of custom design and the various elements you can incorporate into your Black Friday website, let's delve into some practical tips and examples to guide you through the design process.
Change Specific Elements
To create an immersive holiday atmosphere, pay attention to the details. In addition to adding new banners, pages, or discount signs, consider refreshing existing elements such as the header, footer, logo, and live chat frame design. Applying a Black Friday color scheme to your homepage can also enhance the overall visual appeal.

Add a Countdown Before Sales Start
Shoppers start searching for upcoming discounts as early as October, a month before Black Friday sales begin. To cater to their anticipation and inform them when to return to your website, consider incorporating a countdown widget. This simple yet effective feature keeps customers engaged and builds excitement around your upcoming deals.
Use "Marketing" Colors
While black is generally avoided on selling websites, Black Friday presents an opportunity to incorporate this color accent into your design. Combine a black background with vibrant colors such as yellow, red, white, or any other color that aligns with your brand identity. When it comes to Cyber Monday, a gradient of purple, blue, and red is particularly effective in capturing attention and generating interest.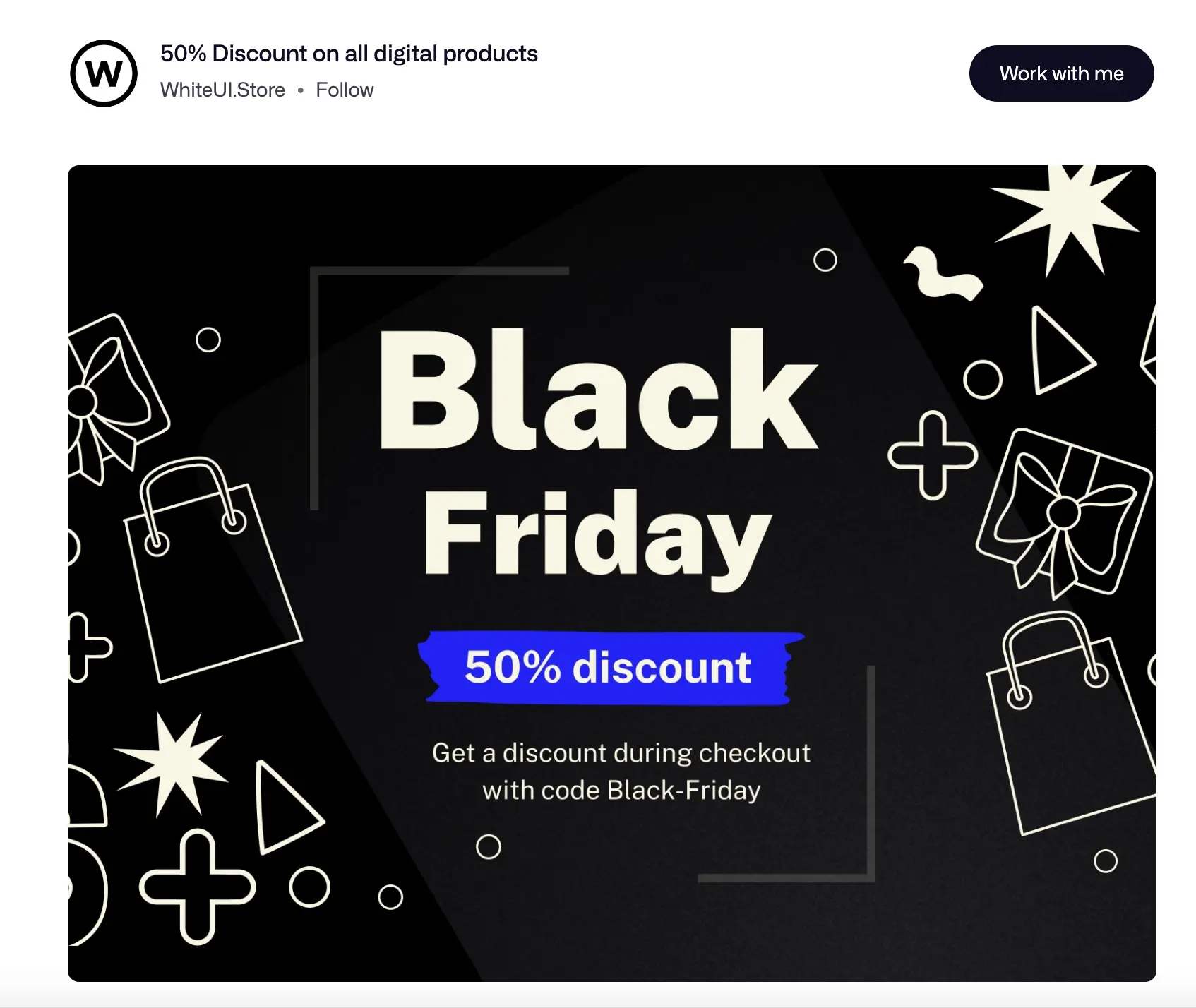 Image Source: Dribbble
As seen in the example above, don't be afraid to experiment with bold imagery and animations during Black Friday. These eye-catching visuals can significantly enhance the overall user experience and drive conversions.

Image Source: Dribbble
Think Mobile-First
With 60% of shoppers searching for Black Friday and Cyber Monday deals on their mobile devices, it's essential to adopt a "mobile-first" approach to your website design. Ensure that your website is fully responsive and optimized for mobile viewing. Additionally, update your mobile application to align with the Black Friday campaign and offer a seamless shopping experience.
Simplifying the flow of your website is crucial during high-traffic periods like Black Friday. Update your design to prioritize speed and ease of use, minimizing the number of clicks required to complete a purchase. The example above demonstrates a call-to-action button that accelerates purchasing decisions and streamlines the checkout process.
Create Consistent and Responsive Emails
Email marketing plays a pivotal role in any successful Black Friday campaign. To ensure maximum impact, design your emails to be consistent and responsive. Utilize a simple column-based structure, align your fonts and styles, and avoid overwhelming readers with excessive text. Instead, focus on incorporating clear and compelling call-to-action buttons that lead recipients to your website.
Conclusion
A custom design ecommerce website is crucial for a successful Black Friday campaign. By following the tips and examples provided in this comprehensive guide, you can create a captivating online experience that will attract and engage customers during this significant retail event. Remember to plan your campaign in advance, tailor your design to your target audience and business specifics, maintain consistency across communication channels, and make the most of each marketing opportunity.
If you're looking for expert guidance and support in designing your Black Friday website, Creatif Agency is here to help. Explore our web design services and let us make your Black Friday campaign a resounding success.
---