FINNE – Simply the Finest Online Shop for Jewelry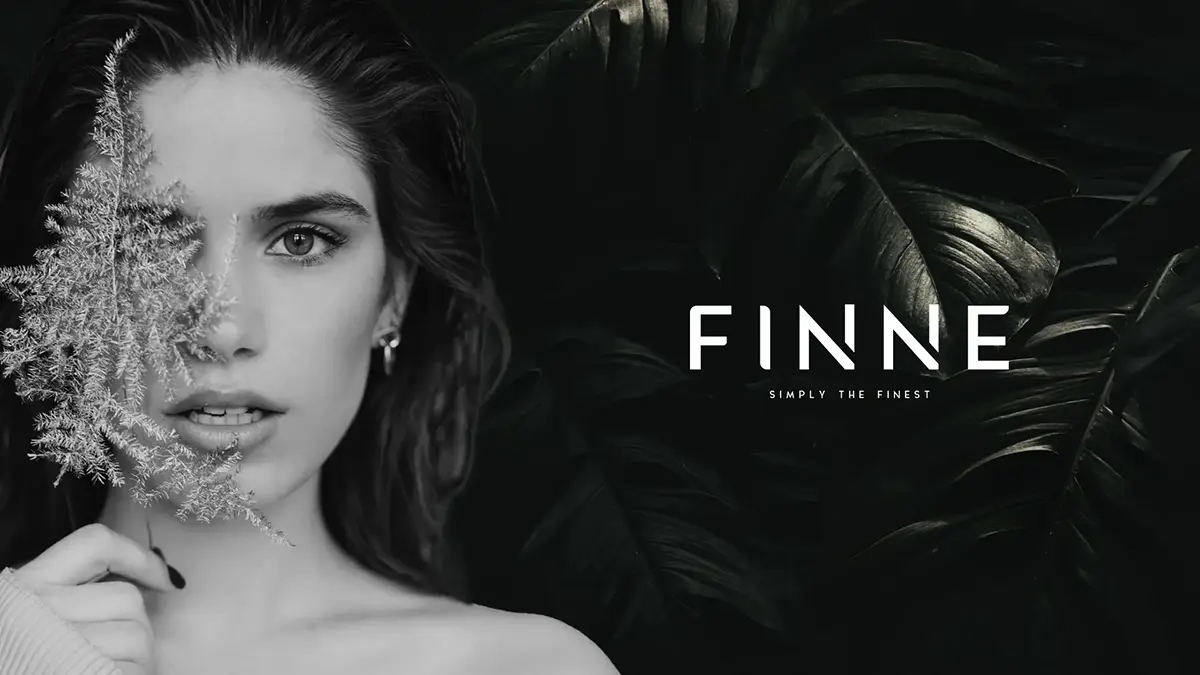 FINNE is a luxury jewelry brand that specializes in offering handcrafted pieces made from the finest materials, such as gold, silver, leather, agate, and more. They are synonymous with elegant and the finest jewelry. Each piece is carefully selected from some of the world's most talented artisans, ensuring that their clients receive a unique and high-quality product that is designed to be cherished for a lifetime.
Project Kickoff
When Finne approached us, they were a new business in need of a brand identity, website, and marketing strategy that would establish their online presence and attract customers.
We worked closely with the Finne team to understand their brand values, target audience, and business goals. Based on their requirements, we created a comprehensive proposal that detailed our approach to branding, web design, and marketing.
Finne chose us as their partner for this project based on our reputation for delivering premium quality websites and our extensive experience working with luxury brands. We set out to create a website that would reflect Finne's high-end brand and provide an exceptional user experience.
Branding
To begin the branding process for Finne, we started by understanding the brand's vision, values, and target audience. We then conducted extensive research into the luxury jewelry market to create a unique brand identity that would differentiate Finne from its competitors.
After several rounds of logo design, we settled on a sleek and modern logo that incorporated the brand's initials in a unique and memorable way. We then extended the logo design into a comprehensive visual identity system, including typography, color palettes, imagery, and brand guidelines. The result was a consistent and cohesive brand image that reflected Finne's high-end and luxurious products.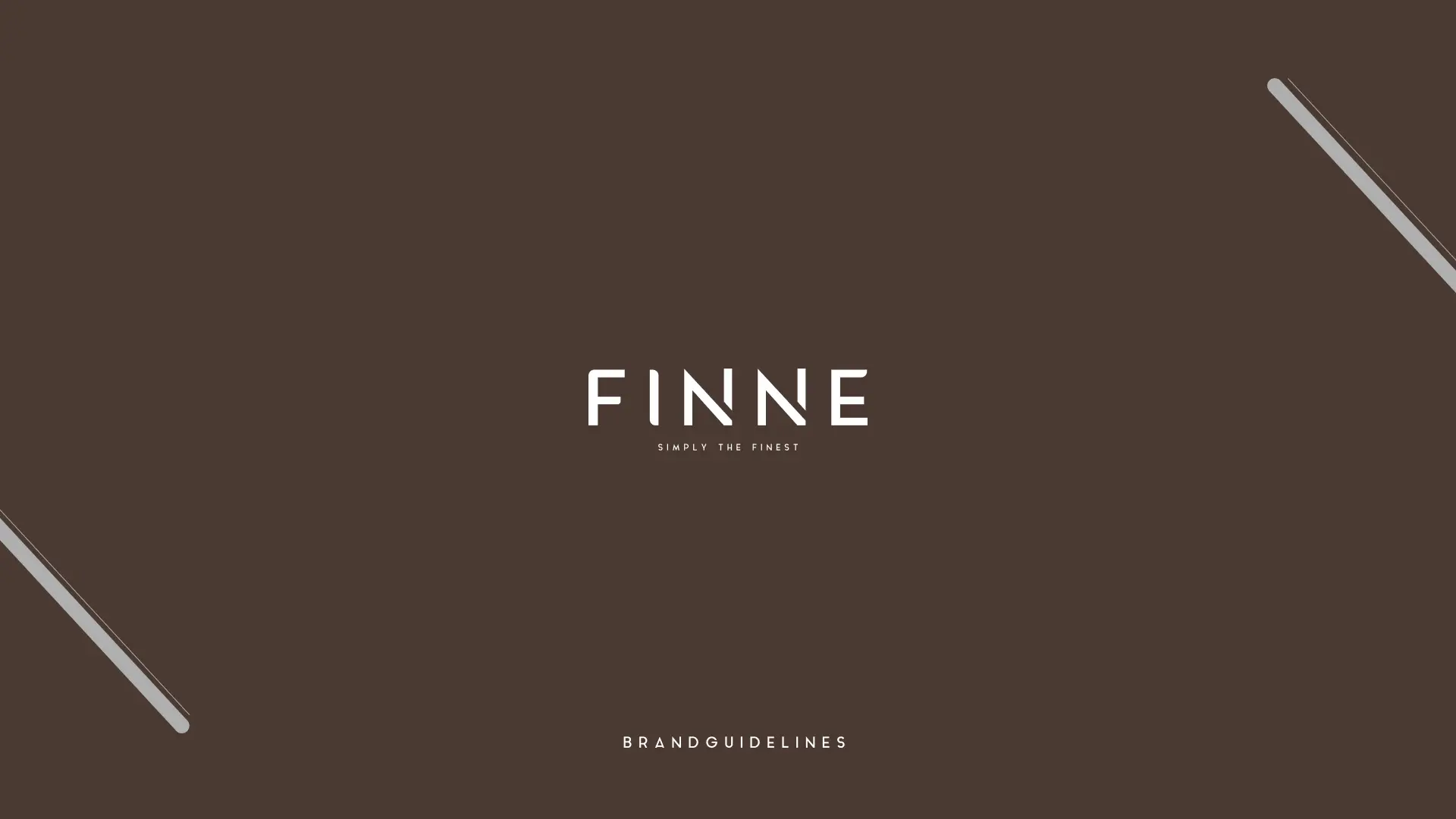 As part of the branding process, we worked with Finne to develop a tagline that captures the brand's essence. After careful consideration, we proposed "Simply the finest" as a tagline that accurately reflects Finne's commitment to quality, craftsmanship, and luxury.
We then used this tagline as a guiding principle throughout the entire project, from the logo design to the website design. We wanted to create a premium look and feel that would position Finne as a high-end jewelry brand.
The result is a brand that conveys luxury and sophistication, with a strong visual identity that sets Finne apart in the crowded jewelry market.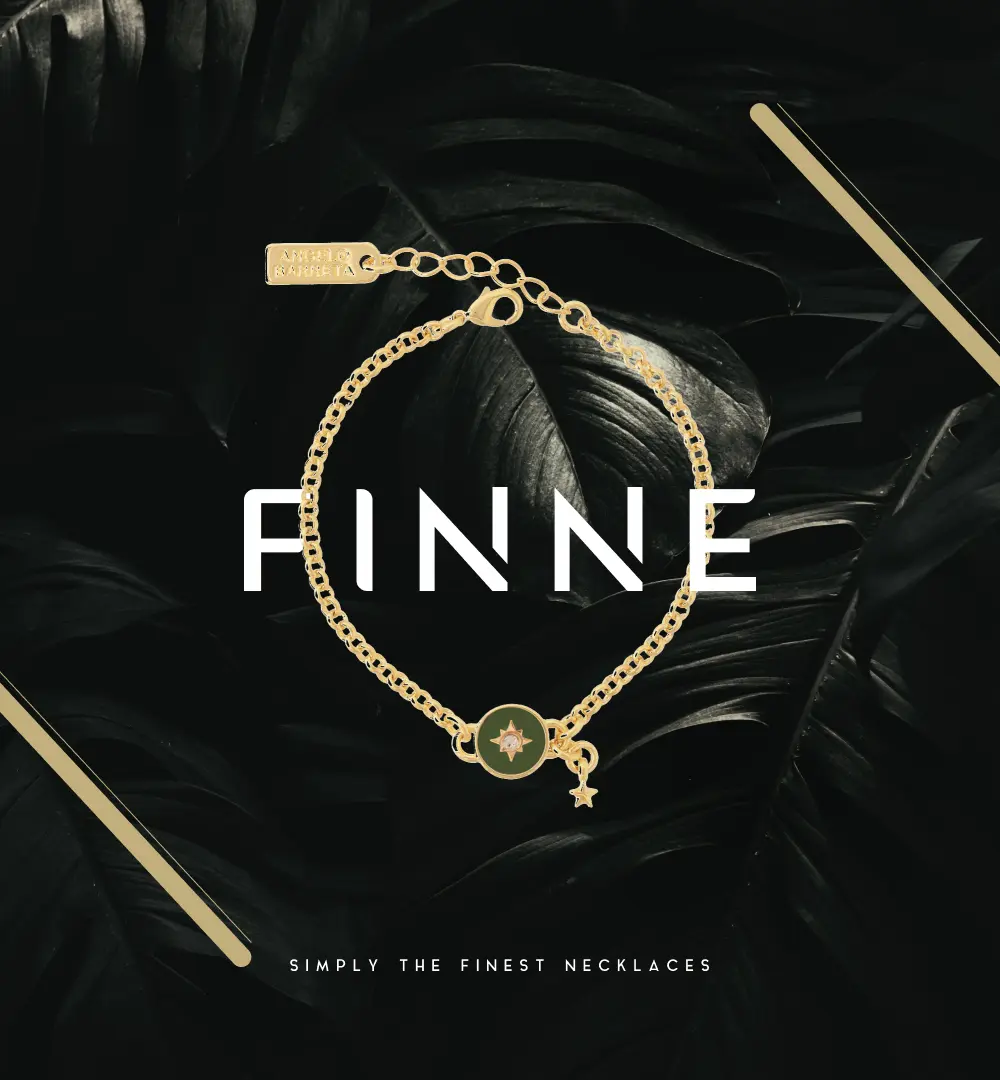 Web Design
After establishing the brand identity, we designed a custom website that showcases Finne's jewelry in an elegant and sophisticated manner. Our design team worked meticulously to create a high-end look and feel that would appeal to Finne's target audience. The website features a minimalist design that highlights the beauty of their products and provides a seamless user experience.
Interested in our design process? Follow this link.
UX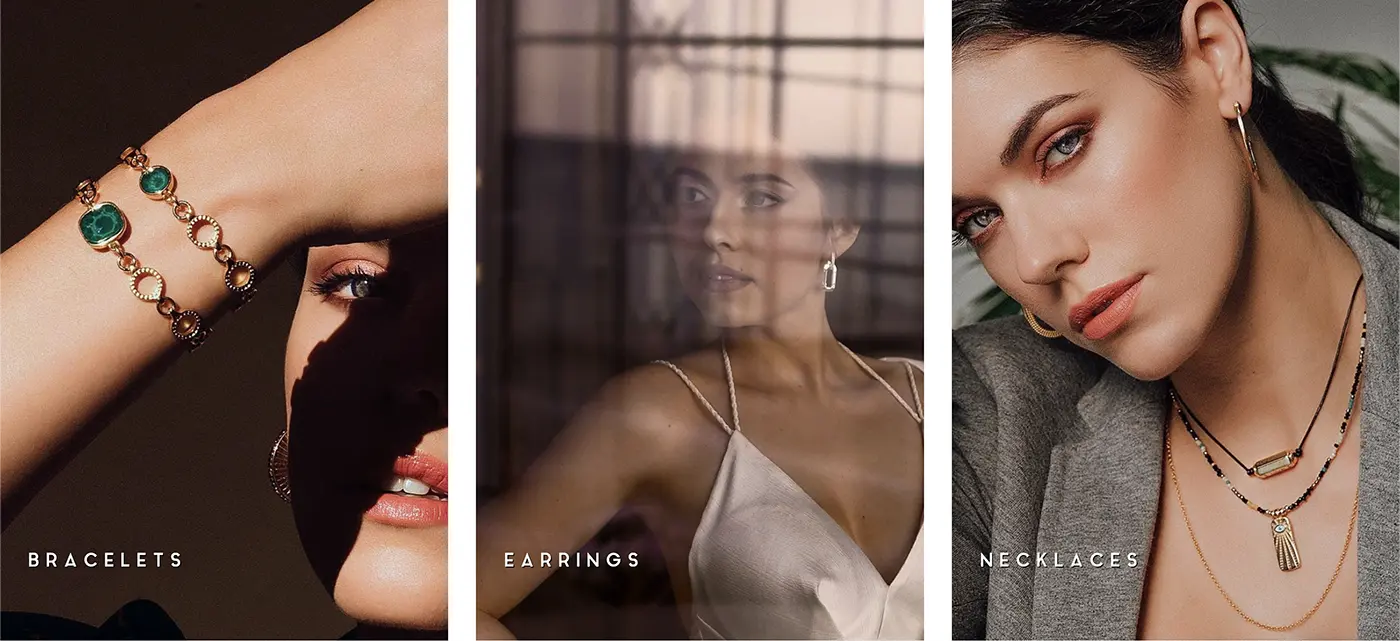 As part of our web design process for Finne, we conducted extensive UX research to understand the needs and behavior of their target audience. One of the key challenges was categorizing the various jewelry products, which required an intuitive and seamless navigation experience.
To solve this, we conducted user testing sessions and analyzed the data to create a clear and logical product taxonomy. This enabled users to easily navigate and find what they were looking for, ultimately resulting in a better user experience.
Website Creation
The web development for this project was a challenging but exciting task for our team. Our main goal was to create a custom e-commerce website that reflected the brand's essence and provided a seamless shopping experience for customers.
We started by developing everything from scratch, which enabled us to create a unique, high-end, and luxurious look that aligned with the brand's image. We paid close attention to every detail, from the color scheme to the typography, to ensure that the website was consistent with the brand's identity.
Moreover, we ensured that the website was fully optimized to provide fast loading speeds and a smooth shopping experience. We implemented a responsive design that ensured the website was accessible and easy to navigate on different devices.
Overall, our team worked tirelessly to create a custom e-commerce website that met the needs of the client and exceeded their expectations.
Advanced features
To make the shopping experience as enjoyable and effortless as possible, we implemented several advanced features. These include a club registration system for big discounts, powerful remarketing tools to bring customers back to the site, an abandoned cart recovery system, and voucher systems to drive customer loyalty.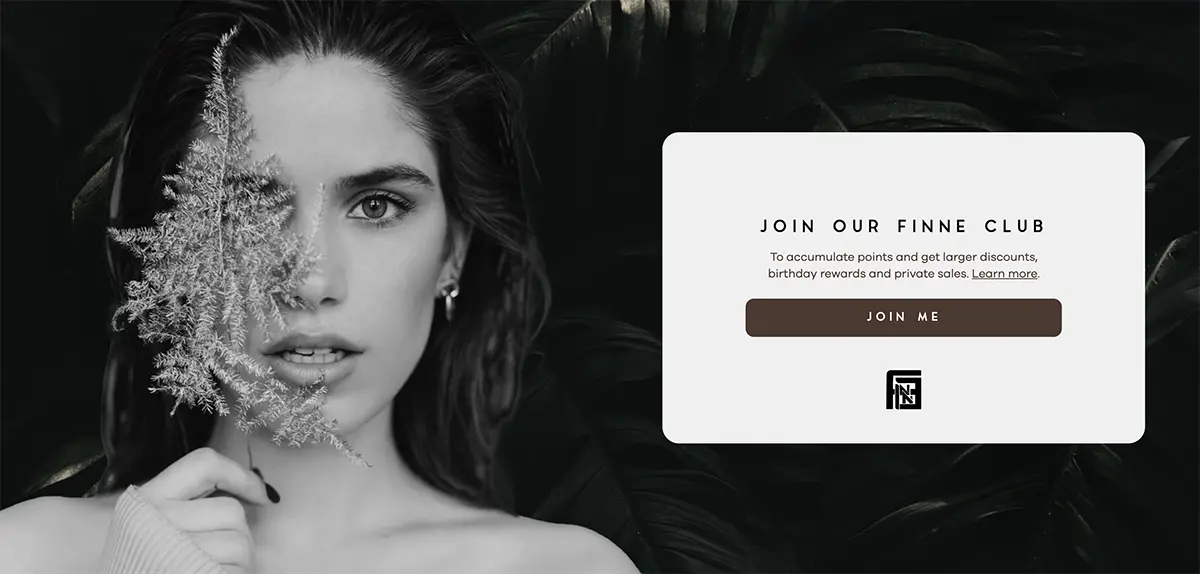 The outcome?! A powerful online shop not just visually impressive but also consisted of a complex functionality that sets it apart from other online shops.
Pagespeed
In our endeavor to enhance the performance of Finne.ro, we prioritized improving page speed, particularly on mobile devices. Recognizing the significant impact of page speed on user experience and conversion rates, our team implemented a comprehensive set of optimizations.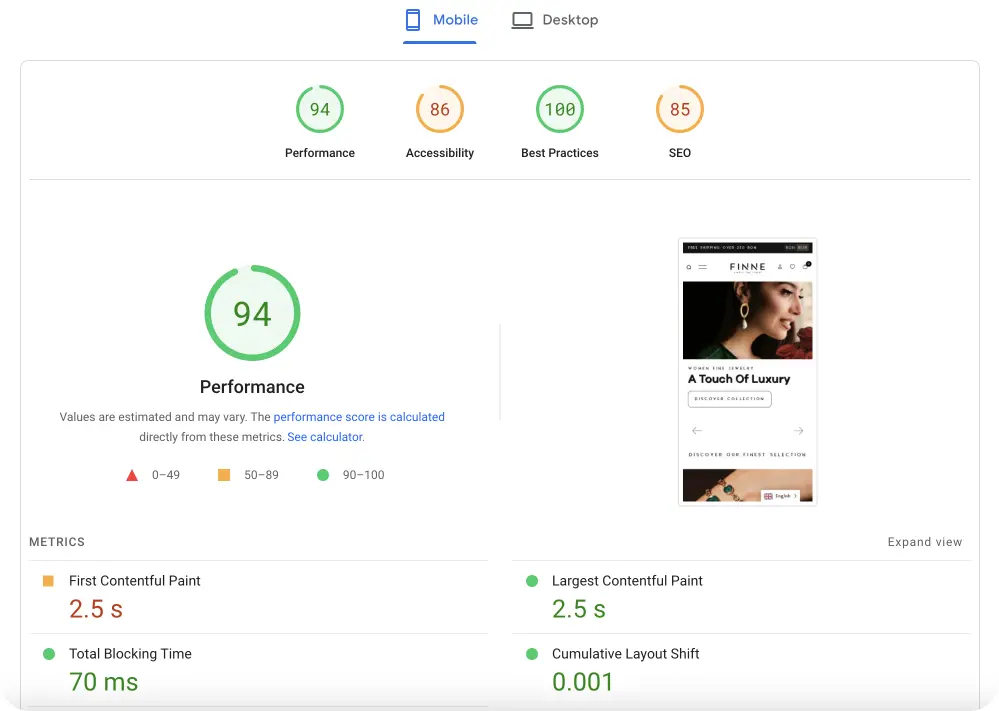 Through measures such as image compression, file minification, browser caching, and server configuration optimization, we significantly reduced loading times. Leveraging content delivery networks (CDNs) further expedited content delivery worldwide.
As a result, Finne.ro achieved an impressive 94 Google Page Speed score on mobile devices. This exceptional score is a testament to our commitment to delivering a seamless and lightning-fast browsing experience for our customers.
The improved page speed not only enhanced user satisfaction and engagement but also had a positive impact on conversion rates, leading to increased sales and revenue. Finne.ro has solidified its position as a leading online shop, dedicated to providing an exceptional user experience through prioritizing page speed optimization.
Marketing
After the website was launched, we continued to work with Finne to develop a marketing strategy that would drive traffic to their website and increase sales. Today, we continue to collaborate with Finne to boost their sales and online presence. Our partnership has enabled Finne to establish itself as a leading luxury jewelry brand in the market, and we are proud to have played a role in their success.
Ongoing collaboration
We are pleased to say that Finne was thrilled with the end result, and our partnership didn't stop there. In fact, they were so satisfied with our work that they have already booked us to create another online shop for a completely different industry.
This is a testament of our ability to deliver exceptional results and our commitment to building long-lasting relationships with our clients.
The website can be accessed via this link.
---